Look Who's Talking Now, presented by Madeline Ibrahim
Last week, Brisbane's Suncorp Stadium hosted the first match of the Wallabies' three Test series against England. Although the Wallabies went down 28-39, they have shown they're up for the challenge of restoring parity in the build up to this week's game at AAMI Park; just ask Tatafu Polota-Nau!
"The true test of a person's character is when they're down and out. People think we are down. But at the end of the day it's more how we bounce back and reply to the situation," Wallabies hooker Polota-Nau said in the press this week. "We're more than capable. If anything, they've woken the beast."
Sharing this same mentality is scrumhalf Nick Phipps, who believes his side will prove the doubters wrong on Saturday night.
"What defines you are the tough moments you go through, and we want to show not only our fans but everyone what our squad is about and the identity we're creating," he said. "We've been the underdog in pretty much every game we've played for the last six years.
"Australians love having their backs to the wall; that is when we perform our best, we know there are no second chances after this."
Ahead of this week's game, Coach Michael Cheika has made a number of changes to the Wallabies side with Sam Carter, Sekope Kepu and Sean McMahon all coming into the starting line-up, and Ben McCalman, Luke Morahan and Toby Smith onto the bench (it's especially great to see Morahan in the Wallabies side for the first time since 2012!).
McMahon, described by the Daily Telegraph's Iain Payten as the 'Wallabies workhorse', will run out onto his usual home ground with the Number Eight on the back of his jersey. Wallabies Vice-Captain Michel Hooper has faith in the young back rower, despite McMahon having never played the position before at an International level.
"We just expect him to be doing what he's been doing all year; play extremely well, carry very hard and (we know that) defensively he's unreal," Hooper said. "I'm really excited to play with 'Seany'. I haven't started with him in a while, (but) when we have we've really enjoyed our time together.
"His consistency of when he's doing it and how he's doing it has improved out of sight to the point where he's world-class and getting a start in a really important Test match for us on Saturday. He is a really exciting player to watch because he can create something out of nothing and the other thing that he's grown in his game is his on-ball work".
Additionally, Australia also welcomes back Brumbies lock Carter, representing Australia for the first time since the match against the USA Eagles in the lead up to last year's Rugby World Cup.
"It's a huge honour for me," Carter told Rugby.com.au's Beth Newman of his selection, "I haven't played in a gold jersey since Chicago last year so I'm really looking forward to it."
The 26 year old explained that the selection process is quiet difficult to predictable, with an emphasis on ensuring you're ready if the chance to play presents itself.
"You are always a bit unsure when Cheik's naming the team," he said, "so you can only prepare as if you are playing, and train as hard as you can and if your opportunity comes, make sure you are ready to go."
Carter joins fellow Brumby Rory Arnold in the second row, after he made his International debut last week, and he believes that their established partnership will be invaluable to the team.
"(We've) spent a lot of time together down in Canberra and played a fair bit this season, so we're a familiar combination, it'll help us both."
Finally, another man also looking to make a difference to the side is prop Kepu, who has recently returned home from Bordeaux to re-join the Waratahs. He has no shortage of test experience, and replaces Greg Holmes in the starting side after cutting short his French experience to return home.
"I wouldn't have imagined that six months on I would be here in Melbourne training with the Wallabies," the 30 year old said, "but I'm very grateful that I've been picked and it's an opportunity to stamp your mark and play your best on the global arena."
He told The Age's Roy Ward that despite his return, his international adventure was a beneficial and successful stint, noting specifically his improved understanding of scrummaging;
"I've learned a lot about the scrummaging and the whole mentality around it," he said. "It's working as an eight, and if I do my job and everyone else does theirs then collectively we achieve the same goal and that's to be dominant."
In our final dispatch from Camp Wallaby this week, utility back Christian Leali'ifano told Wayne Smith from the Australian that he has a fresh motivation every time he plays now; his newborn son, Jeremih. Leali'ifano has previously always found himself drawing inspiration from his late father, explaining that "he (Tavita) guides me along all the time and he'd be pretty happy I'm in this position at the moment."
"Something that Cheik drives is why we play the game, and what your purpose is," he said. "It was my dad for a long, long time, and now I'm a father I think it's time to pass the baton on and really, really play for my son and really represent him and my little family well."
One man not in Camp Wallaby is 111-Test veteran George Smith, who has today officially confirmed his retirement from international Rugby. Just last week, the Reds announced that they had signed a two-year deal for Smith to return to Australia after stints in Japan (where he will continue to play) and most recently in England with Wasps.
Speaking with Jamie Pandaram from the Daily Telegraph, Smith confirmed he has no intention of playing International Rugby again.
"No. I really enjoy just supporting the players, I have no desire to play Test rugby any more."
Smith has defied his words before, as seen in 2013, when he stepped out of international retirement to face the British and Irish Lions, however this time he's adamant and he is comfortable with his decision.
"I really enjoyed my time with the Wallabies, I came out of retirement a couple of years ago against the Lions, and I really enjoyed playing," Smith said. "I played 111 Tests; I'm really content and I can't get too greedy, I've had enough."
Moving on from the men to now focus on the women of Rugby, and it's been a huge week for the Wallaroos with the announcement of a new partnership with Buildcorp and an upcoming Test series against New Zealand featuring an Eden Park curtain raiser!
Speaking with ESPN Reporter Brittany Mitchell, two-time Women's Rugby World Cup star and current Australian Rugby Sevens Co-Captain Sharni Williams said she believes Rugby is beginning to break down sporting boundaries and societal stereotypes.
"Playing rugby gave me confidence and I've smashed boundaries. I'm a mechanic, and I've definitely taken that stereotype out of people's heads. Playing Rugby definitely made me feel like I could join a man's workforce. It gave me confidence."
With the growing popularity of Women's rugby, Williams also believes that stereotypes implying that the game is too rough for women will be eradicated.
"The public's going to change their mindsets once they see it," Williams says.
"It's evolving quickly and we're really good at it and you don't put people down when they're good at something. If you're good, you've got to keep going, you've got to keep positive. Yes it's something different, but we've got to keep evolving."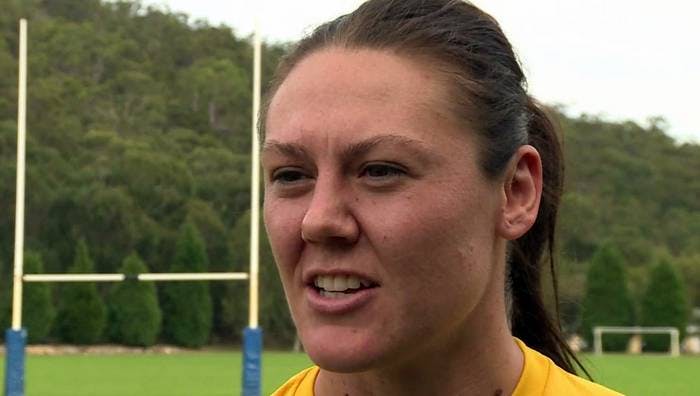 Congratulations to Buildcorp for getting involved in sponsoring women's Rugby at an elite level; we salute you!
So finally to this week's Second Test we go, nearly a decade to the day since Australia last played England in Melbourne, and we're going to give an early Happy Birthday shout to Sean McMahon (22) and Dane Haylett-Petty (27) who both celebrate their big day in the run-on side tomorrow.
After the success of last week's Instagram takeover by Reds prop Sam Talakai, Melbourne Rebels lock Sam Jeffries has the key to @RugbyPlayersAus on Saturday night so keep an eye out to see who he takes to the footy & what his experience is like; Go Wallabies!