This week heralds the very first Wallabies Test match of the season, as Brisbane's Suncorp Stadium hosts the opening clash of England's three-match tour on off Saturday night.
In Look Who's Talking Now, compiled by Madeline Ibrahim, we hear from the four new faces named in the Wallabies side and what they've had to say in this week's media about the great challenge that lies ahead.
We start with Samu Kerevi, the 22-year-old Reds centre who will fellow Fijian Tevita Kuridrani in the Wallabies' side for the very first time and who was speechless after his name was announced by Coach Michael Cheika.
"I was just sitting there and he [Cheika] starting talking and naming the team, starting with the forwards. I was sitting there with Tevita and then he got to the centres and he said my name," Kerevi explained to the Brisbane Times' Phil Lutton. "I just didn't… surely he'd got that wrong. The boys started shaking my hand and I was still… nah… surely not!"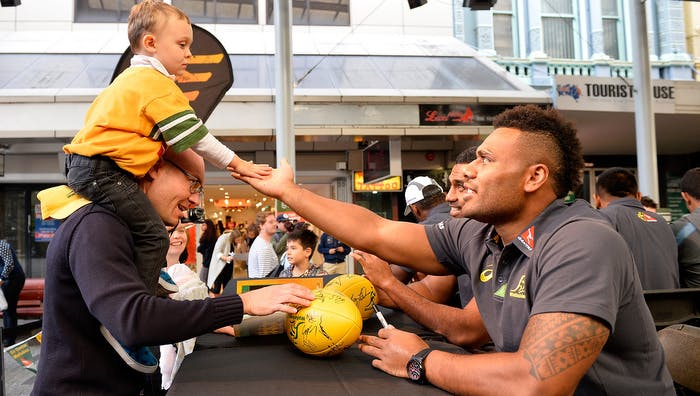 Kerevi knows he must step up as he has a big job to do, while he is really looking forward to playing alongside Kuridrani for the very first time.
"I know my role well and I know it clearly," he said. "Cheik has us there for our physicality. He wants us to be physical and run hard. I've been chasing Tevita for a long time, trying to be as good as him and this will be the first time we have played together – it's so exciting but we have a job to do."
Adding to what will be a very big and physical Wallabies side is giant 208cm Brumbies lock Rory Arnold, who also earns his first test cap this week. Speaking about his teammate in Canberra ahead of running out together for Australia, David Pocock told travelling Telegraph (UK) journalist Gavin Mairs that Arnold has "worked incredibly hard since turning up at the Brumbies with very little rugby experience, he's really proved himself".
Arnold may be the tallest player to ever put on a Wallabies jersey, passing Dan Vickerman (204cm), Will Skelton and Bill Campbell (all 203cm), but Pocock insists he has much more to offer than just his height; "he's imposing, works hard, is really down to earth and enjoys learning."
Western Force flyer Dane Haylett-Petty gave himself the best opportunity of being another of the four uncapped players to debut in Wallaby gold way back last October, when the West Australian product found himself in Phoenix, Arizona. He was training at the same high performance centre as triple-code-swapping superstar Jarryd Hayne, and credits such preparation as one of the reasons behind his recent Wallabies selection.
"In Phoenix, I definitely worked on the speed and power stuff to break a few more tackles and having almost a pre pre-season set me up for a good year,'' he told the Courier Mail's Jim Tucker.
Training beside NFL players, baseballers and Olympic swimmers was a high-octane inspiration in a sporting dream factory for Haylett-Perry and fellow Western star Luke Morahan.
"I trained with some NFL guys who were working up to the scouting combine. My power was logged over four weeks and I just worked harder; you are always aiming to be a more complete player.
The camp proved to be a successful learning venture, both physically and mentally.
"Moving left and right to be in better positon for tackles was one good exchange of knowledge with the line-backers in Arizona", he explained, but "lifting our professionalism was one thing Luke and I got from being around other pro athletes".
Finally to the only Wallaby debutant not guaranteed to see game time tomorrow night Nick Frisby, the young Reds scrumhalf who has been selected on the bench as Nick Phipps' deputy. For four years, Frisby has patiently awaited the opportunity to start regularly for the Reds and put himself into a position to earn selection for his country, the departure of Wallaby Will Genia to French Club Stade Francais after the Rugby World Cup giving him his chance.
It's a chance he has certainly taken with both hands, though he admits it is still sinking in, and he pays credit to the time spent training and playing alongside Genia in helping him to earn his chance.
"It's hard to believe," the 23 year old told Reuters. "It took me a while to sink in last week that I was out there training with some of these guys I've watched play for years and looked up to."
"One of the best things he (Genia) always stressed was to play your own game, no matter the game or situation, and that mentality is very important. Being one of the smallest players on the field I've got a lot of confidence from working on my defence this season and being able to contribute there, I'll get stuck in again this week, and see where it takes me".
Genia himself has faith in Frisby, telling Jim Tucker that "the biggest thing I wanted to impress upon him was to back those skills and instincts he had, to trust his ability to make decisions he felt were right. He is a very naturally gifted footballer."
Away from the Wallabies, and sadly as one door opens for multiple International debutants this week, another one closes for Waratah and Wallabies legend Benn Robinson.
This week, the record-breaking prop and current RUPA president announced his immediate retirement from Rugby as a result of a severe eye injured sustained against the Brumbies in Round Eight. Robinson, the Waratah's highest-ever capped player, has been a part of NSW's full time squad ever since his debut for his state in 2004.
Click here to see how RUPA members reacted to Robinson's announcement on social media.
Click here to hear from Adam Ashley-Cooper & Andrew Kellaway regarding Robinson's stellar career.
The risk of damaging the eye further was deemed far too great for Robinson to continue his Rugby career however his endless devotion, passion and commitment to the Waratahs and Australia will not be forgotten by his teammates.
"Benn has been the cornerstone of our scrum for over a decade and has been a loyal servant in the Waratahs jersey," Waratah's Captain Dave Dennis told the Club's Media Unit. "He's certainly somebody you wanted to play alongside. Cat was a great team player and more importantly a better team mate".
"He has been a great team man who has added immensely to the history of our club. All players, past and present, have enjoyed having his likeable personality amongst our team," Dennis said.
"He has been a mentor of mine," Kurtley Beale said. "He'd always bring in the young guys, and make sure everyone was involved. He has been a huge support to me over my career and I will never forget that."
Waratahs and Wallabies legend Phil Waugh also added that "Fatcat was more than just a great front rower; he was the jovial personality in the team, the player who always made you enjoy the moment."
Robinson has endured many injuries throughout his career, however has always maintained a positive and determined attitude, never letting pain hold him back.
"He got up got back in line and with a busted eye, made one more tackle," Dennis told Iain Payten when explaining the moment Robinson sustained the eye injury, "and that ended up being his last ever play in Rugby.
"Benn's a guy who put the waratahs first, and himself second, and that's how we'll remember him."
What a perfect note in which to leave this week's Look Who's Talking Now; we salute you, Robbo!
Keep an eye on @RugbyPlayersAus on Instagram this weekend as well, as we hand the keys to a very special guest who's going to provide his birds-eye view of the