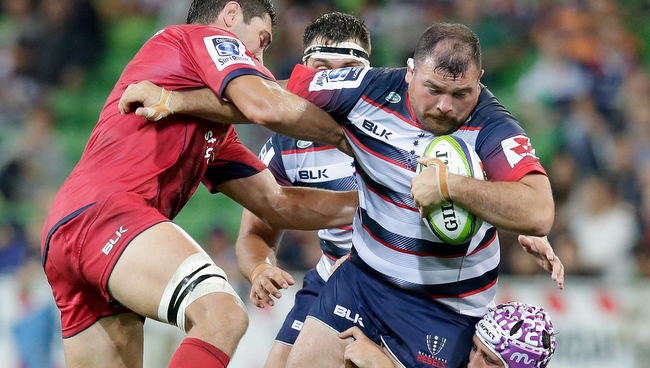 It's another big week for Australian Rugby, with four of our five Super Rugby teams in action, the Super U20s final in Brisbane and the Australian Men's and Women's Rugby Sevens teams preparing for World Series events next weekend.
We start with the local derby of the week, as the Melbourne Rebels head to Allianz Stadium looking to win a first ever game in Sydney. Foundation Rebels prop Laurie Weeks is in his sixth season at the Club, and as he told the Herald Sun's Matt Windley this week's match truly can be classified as an eight-point encounter.
"It's huge because we're looking to get in to the top two," Weeks said. "We can really measure where we stand in the Australian conference against the Waratahs. Tony (McGahan) hasn't skimmed over it. He's pointed out that a lot of these games early on we've got to win, we don't want to be at the end of the season as struggling to get points."
He'll come up against fellow Wallaby prop Benn Robinson in the front row battle on Sunday, with the RUPA President telling the Sydney Morning Herald's Tom Decent that his side's scrum problems in recent weeks boiled down to sloppy preparation.
"Some of the standards we're accepting at training are not acceptable," Robinson said. "That's across the board, so players coming in and packing against the starting side; it's not good enough at the moment for me which is a disappointing thing.
"We know how teams are going to target us in the scrum; it's an area we know they're going to come for us," Robinson said. " You can see, not just our scrums, but scrums that are dominated early during a game they [the opposition] have decisions go their way, so right from the get-go you need to set a good platform. You don't want to get to the point where referees or teams are coming in with a pre-conceived idea. We need to cut that out straight away."
"We know how good our backs are, we know we want to give them clean ball," Robinson said. "Let's march them 50 metres up the field and let's give the backs fifty per cent of the ball too."
It will arguably be a cracking contest on Sunday, but the weekend begins firstly with the Western Force playing their final game of a tough New Zealand tour in Dunedin against the rampant Highlanders.
As we pointed out in Stat Attack earlier this week, the Force haven't lost in the deep south since 2006. They'll receive a boost with the likely Super Rugby debut of Namibian-born back rower Richard Hardwick, who has been patient in waiting for his chance after playing two full Buildcorp NRC seasons with the Perth Spirit.
"I'm pretty stoked to be honest," he told Fraser Smith. "It's an opportunity that has been so close for so long now and I've just been waiting to grab it. It's unfortunate that someone had to get injured because you never like to see your friends go down hurt but I'm very excited to get a crack and show what I can produce. I hope I can fill those shoes, come in and do a role and hopefully if I can do that I'll earn selection in a few more games this season.
"It's going to be a challenge for me but if I stick to my guns I know I'll be able to perform. All the boys have been really supportive; as soon as I got over to New Zealand with the boys they have been making sure I know everything I need to know and just saying 'you're here for a reason, if you do your role everything else will come', so that's what I'll do."
At the other end of the scale from a young debutant comes hugely experienced Wallabies hooker Josh Mann-Rea, who returns to the Brumbies' bench this weekend determined to make amends with his teammates after being suspended for last week's win against the Cheetahs in Bloemfontein. He was red carded and later suspended for punching Stormers prop Oli Kebble as the Brumbies lost their first (and so far only) match of the year.
"What happened was a brain snap on my behalf… there was a bit of push and shove and I didn't back down, but I shouldn't have taken it as far as I did," Mann-Rea told the Canberra Times' Chris Dutton. "I've got to take the blame for that. I don't like to see our boys getting bullied by anyone, but at the end of the day it was stupid on my behalf. It was a silly thing to do and I paid the price for it.
"I'm excited to be back out with the boys ... To leave the boys a man down for 20 minutes [against the Stormers], it was pretty hard to sit there and watch that."
The Brumbies host the competition leading Chiefs in Canberra in what is arguably the game of the round, and Mann-Rea and the rest of their bench will have a vital role to play.
"One of our things on the bench is that your role is to come on and inject enthusiasm and lift the tempo for the guys who have been on there," Mann-Rea said. "I hope I can show the boys that we've got plenty left in us. We've got the bye next week so we're going to try to empty the bucket; these are the sorts of games you want to play in because it gives you a good idea of where you're standing."
Keep an eye on Mann-Rea's teammate Matt Toomua, who will be sporting a new accessory for a good cause; he's an ambassador for Skins' Rainbow Laces round which sees Australian sporting teams across all four football codes and netball be donning rainbow laces to promote anti-homophobia this weekend.
"There hasn't been an athlete who's felt comfortable enough to come out in the football codes so for that it's something that we need to address," Toomua said. "For me it's about normalising it in a sense and just realising that guys can be who they are and be comfortable in their own skin."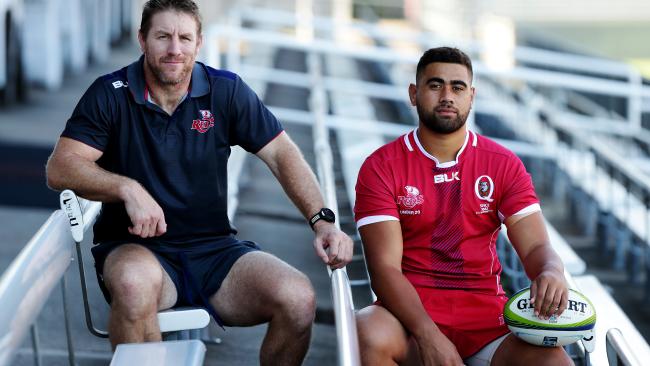 The Reds may have the bye this week but their Under 20 side host the Melbourne Rebels U20s in the Super U20s final at Ballymore on Sunday afternoon. Each team will feature a number of professional players (and RUPA members in their ranks); the Reds' side has been named and features Campbell Magnay, Lukhan Tui, Taniela Tupou and James Tuttle, while Harley Fox and Sione Tuipulotu are in contention to be named for the Rebels.
Tui is destined for big things according to his Coach, dual international Brad Thorn, who was speaking with the Courier Mail's Sam Phillips.
"He's similar to myself in terms of coming from a Rugby League background and he's now growing into the game of Rugby," Thorn said. "As much as people want to say they're getting more alike, the two codes are still very far apart in terms of scrums, lineouts, mauling, kicking, and phase play; there is a big education there for Lukhan."
The Men's Rugby Sevens team have named a very strong side for next weekend's Hong Kong Sevens, with skipper Ed Jenkins and Cam Clark returning after being rested for the last round in Vancouver.
Jenkins will lead the Australian side in Rio at the Olympic Games, but as he told Iain Payten this week his future beyond August is less certain.
"The body is in great shape at the moment so I would still like to play Rugby in some capacity, whether that is here with in Sevens or overseas. I am not sure yet," Jenkins said. "I have put a lot of years into the Sevens program and foregone any opportunity to play any 15s while focusing on Sevens. The Olympics was the end goal, it is here and it is my massive focus at the moment. But 15s is something I will be exploring post Olympics as well as staying with the Sevens."
Jenkins said he would likely look to play overseas "for a lifestyle change" if he returns to 15s.
Finally to some great work happening off the field for the Rugby Sevens program, with six players (Tom Cusack, Dominique du Toit, Lewis Holland, Sam Myers, Tiana Penitani and James Stannard) presenting their long-term vision to the game to a number of key stakeholders this week as part of their Advanced Diploma of Business studies.
Lewis Holland said that the strategic plan reflected the mood of both respective squads.
"We put a lot of hard work into our strategic plan and wanted to present how we currently see the Rugby Sevens programs, and where we want to see them in the future," Holland said. "We knew there were going to be some important people in the room and we wanted to take a strong stand in terms of things that are good now and things that can get better; we wanted to share our views, and we didn't want to sugar-coat anything."